Who among us does not enjoy a little bit of competition and rivalry? It is the thing that motivates us to succeed, improve, and triumph over the other side. Batman has Joker, Holmes has Moriarty, and many football clubs around the world have their own rival they would like to see defeated in every match they play against one another. Things can become very heated when these clubs are close to one another, which is why we use a special name for them –derbies.
So what is a derby?
It is not exactly sure where the term 'football derby' originated, but it is quite possible that it has either to do with The Derby, a horse race in England, or the town of Derby. There is numerous evidence that points to either one of these two theories. However, regardless of its origin, the term 'football derby' is used to denote a match between two rival teams, who are usually close in terms of geographical location. This too is debated by some football historians, as they claim that it can also include historical rivalries between two clubs, like Manchester United and Liverpool. There are also plenty of examples for both sides of the argument, so let us not dwell on it any longer. Many of these derbies around the world gather a large crowd, and sometimes the matches can get pretty wild. Here are some of them.
Schalke 04 – Borussia Dortmund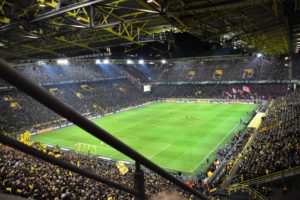 This legendary German derby, also known as the Revierderby, is one of the most famous rivalries of its kind in the world. It divides all people in the Ruhr region, and there is no middle ground between these two teams, you can either be a Royal Blue, or Black and Yellow. They met on 130 occasions –Schalke won 54, and Borussia won 45 times. This rivalry, although big, has never stood in the way of the mutual respect and admiration the two clubs have for one another. They are also known for helping each other in times of financial difficulty –all in good sport.
Real Madrid – Barcelona
It is hard to compile a list such as this without mentioning the El Classico. This rivalry is somewhat natural, because although not very close, these teams come from the two biggest cities in Spain, and they are very financially stable and influential. Their rivalry is not purely based on sport, as it is deepened by the political situation in the country –the clash between Spanish and Catalan people. They played 204 derbies, with Real winning 83, and Barcelona winning 78.
Boca Juniors –River Plate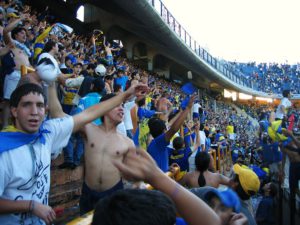 Now we move to Argentina, where we view the Superclassico, a derby which hides what is considered the greatest rivalry in the world. The animosity between these two clubs dates back to the beginning of the twentieth century, when they were founded, Boca was usually supported by the working class, whereas River was usually the choice of wealthier people. The rivalry is so great, and the supporters so fanatical, that, in 1968 an incident occurred between the fans of these two clubs, where 71 people lost their lives, and 150 were injured.
Galatasaray – Fenerbahce
Finally, coming from Turkey, we have the Intercontinental Derby, named because the two teams come from the European and the Asian parts of Istanbul. What started as a friendly competition between the two clubs turned sour in 1934, when a single match managed to turn both the clubs and their fans against one another; the rivalry among them was also deepened by class and cultural differences. During their matches, the atmosphere is really intense, and in 2013, a Fenerbahce fan was stabbed to death by a Galatasaray fan after a match.